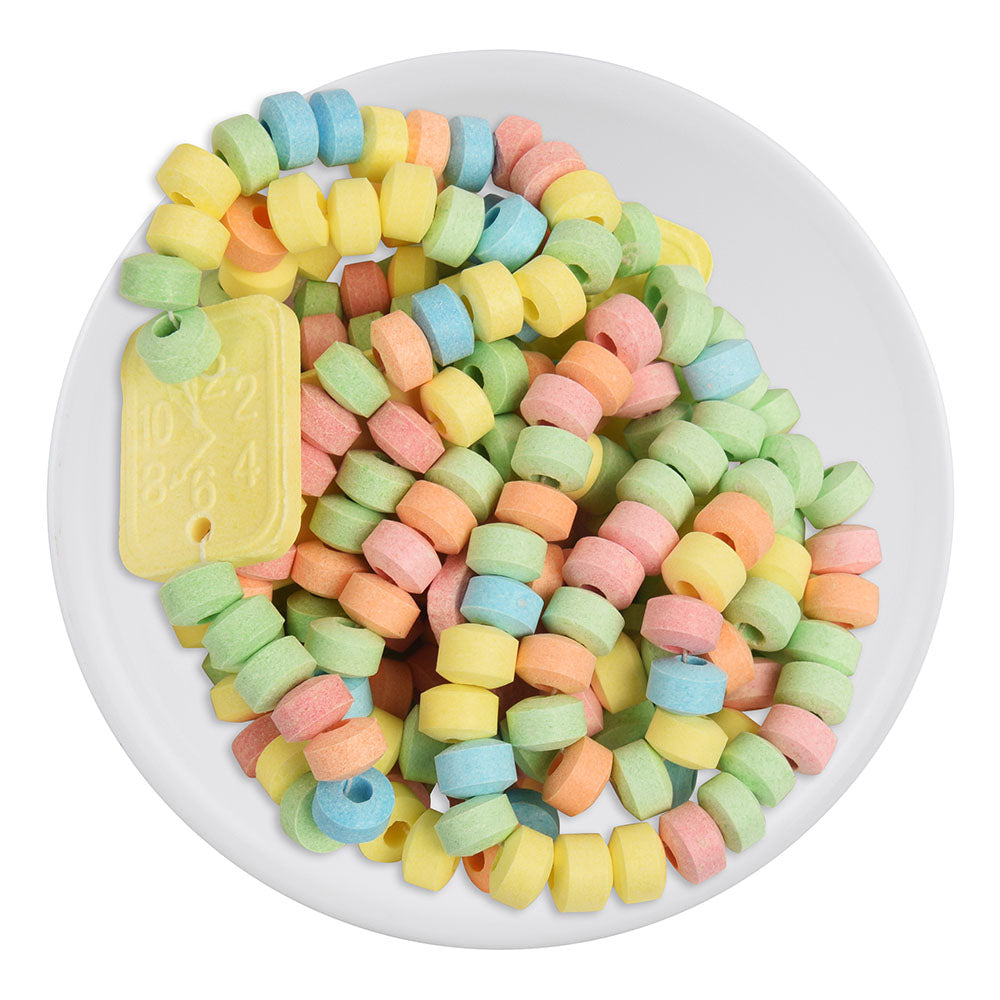 Candy Watches
Your order will be delivered within a maximum of 3 to 4 Business days.
SKU: HB133; Category: Hard Boil ; Tag: Veg
Give these adorable candy watches to your kids so that they can adorn them with pride on their wrists. Packed with a tantalizing selection of flavours, these watches are made up of inviting candies that are woven together in a cord and contain a candy bar at the centre that is designed like a dial of a wristwatch..
The sweet flavour and mesmerizing aroma of these candies will make your day.
These candy watches can be gifted to kids as a prize or on some special occasion. They can also be added to the menus of your parties and get together to treat your guests.
It is available in the form of a wristwatch consisting of tiny candies and a big rectangular candy.
Net Weight : 100gm
Ingredients: Dextrose, glucose syrup, acidity regulator (citric acid INS330), Flavouring, Colours (INS102, INS129, INS133, INS100), Flavouring-Vanilla and Apple (Nature Identical Flavouring CONTAINS PERMITTED SYNTHETIC COLOURS (INS102, INS129, INS133, INS100) AND ADDED FLAVOURING (NATURE IDENTICAL FLAVOURING SUBSTANCES)
Manufactured By: LOOK-O-LOOK INTERNATIONAL BV, GEURDELAND 5 ANDELST, POSTBUS 96670 AA ZETTEN, THE NETHERLANDS
Imported and Repacked By: SAMKAN PRODUCTS PRIVATE LIMITED. 1214,12TH FLOOR, MODI TOWER 98, NEHRU PLACE, NEW DELHI 110019 INDIA.
Allergy Information: For allergens, please check the ingredient list.
Best Before: Refer to the White Label sticker on the package for expiry details.
Country of Origin: Netherlands
Nutritional Information (per 100gm)
Energy (kcal) 380 Protein (g) 0 Carbohydrates (g) 95 Total Sugar (g) 94 Added sugar (g) 93 Total Fat (g) 0.01