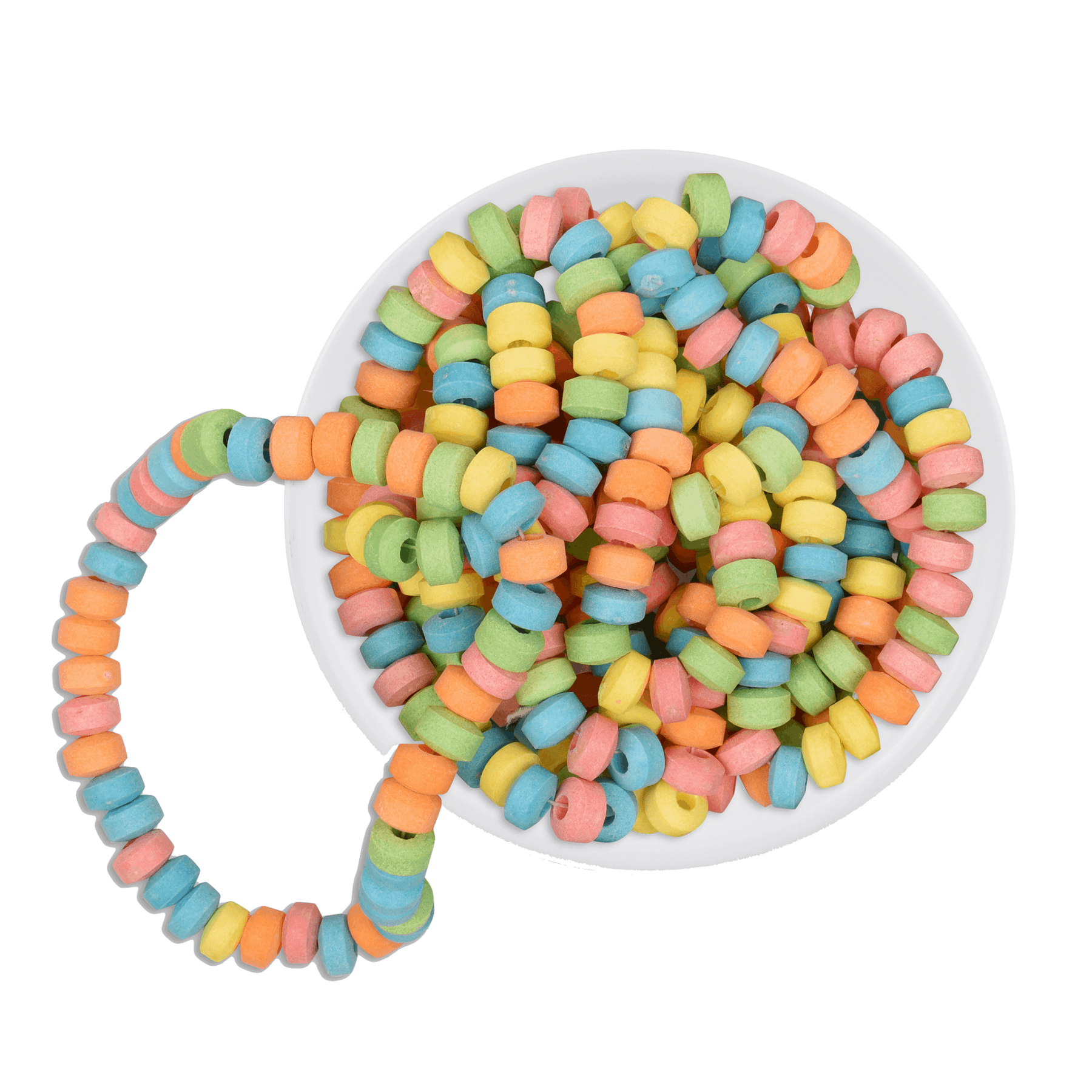 Candy Necklace
Your order will be delivered within a maximum of 3 to 4 Business days.
SKU: HB106; Category: Hard Boil; Tag: Veg
🍬📿 Sweet Style: Candy Necklace - Wearable Delight! 📿🍬
Add a touch of sweetness to your style with our Candy Necklace! This playful accessory lets you enjoy your favorite candies in a whole new way. A colorful, edible treat that's as fashionable as it is delightful. 🛍️🍭
Structured like a beautiful and colourful choker necklace it is in fact a train of yummy assortments that make your taste buds dance with ecstasy. These treats are woven on a cord made of elastic so that your kids can wear them and pop-in a few pieces in their mouth whenever they want to. 
These candies have a sugary sweet and fruity taste that melts in the mouth instantly.
The candy necklace can be included in gift boxes and prove to be included in party menus.
It is available in candy shaped pastel coloured beads that are lined together to form a necklace.
Net Weight: 100gms
Ingredients: Dextrose, glucose syrup, anti-caking agents (magnesium salts of fatty acids, mono and diglycerides of fatty acids), malt dextrin, acid ( citric acid), natural flavorings, vegetable oils (coconut palm kernel), colors thocyanins, paprika extract, beetroot red, beta carotene)
Manufactured by: LOOK-O-LOOK INTERNATIONAL BV, GEURDELAND 5 ANDELST, POSTBUS 96670 AA ZETTEN, THE NETHERLANDS
Imported and Repacked by: SAMKAN PRODUCTS PRIVATE LIMITED. 1214,12TH FLOOR, MODI TOWER 98, NEHRU PLACE, NEW DELHI 110019 INDIA.
Allergy Info: For allergens, please check the ingredient list.
Best Before: Refer to the White Label sticker on the package for expiry details.
Country of Origin: NETHERLANDS
Nutritional Information (per 100gm)
Energy (kcal) 380, Protein (g) 0, Carbohydrates (g) 95, Total Sugar (g) 92, Added sugar (g) 93, Total Fat (g) 0, Saturated Fat (g) 0, Trans Fat (g) 0, Sodium (mg) 0.