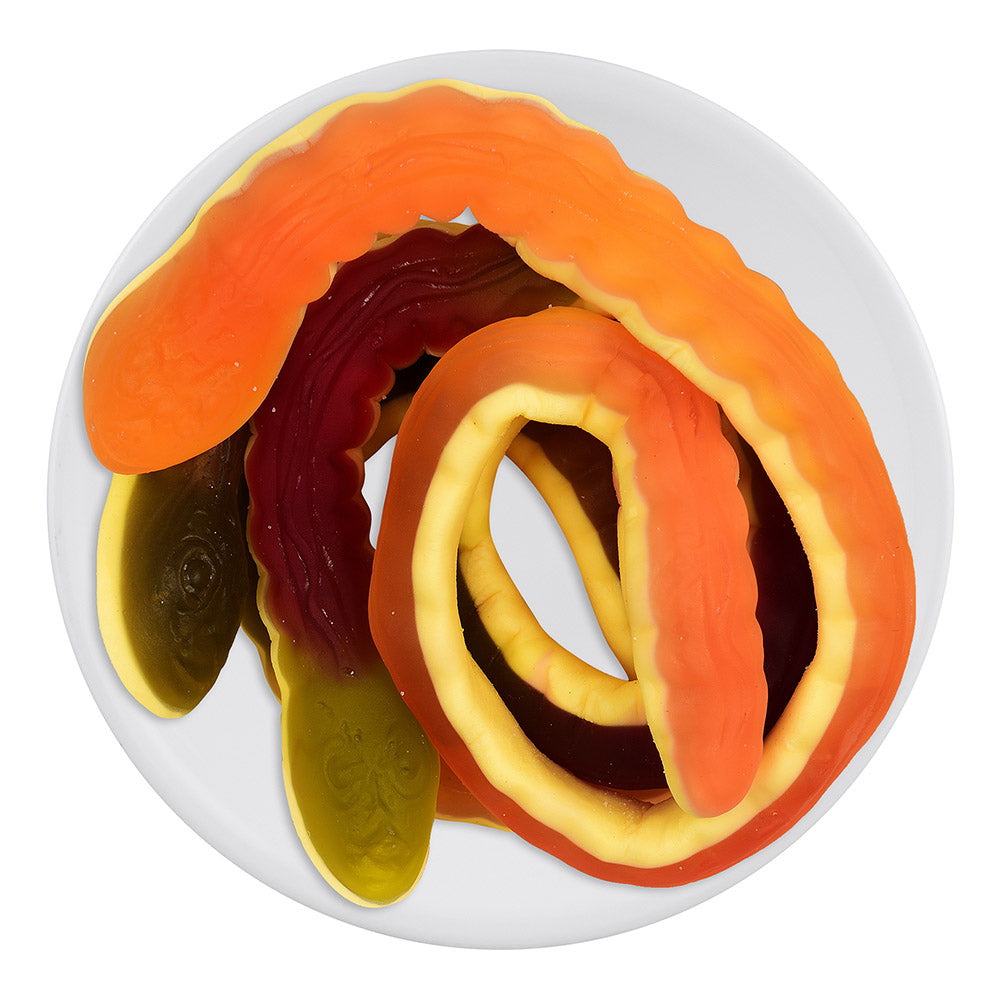 Yellow Bellies Jumbo Pack - 1Kg
Your order will be delivered within a maximum of 3 to 4 Business days.
SKU: BO224; Category: Gums and Jellies; Tag: Non- Veg
These snake-shaped creepy crawlies are the right combination of eerie and yummy. The jelly based, mix flavoured succulents have a gummy consistency and will make for a fun candy for your child's next birthday party. It has some incredible ingredients like passion fruit, kiwi and hibiscus, which elevate the taste of the candy.
Mix flavoured 
Fit for parties and fun gift ideas
Snake shaped candies
Net Weight: 1 Kg
Ingredients: Glucose syrup, sugar, gelatine (pork), dextrose, acid (citric acid INS330); flavouring, fruit and plant concentrates: apple, aronia, black currant, carrot, elderberry grape, hibiscus, kiwi, lemon, mango, nettle, orange, passion fruit, spinach; glazing agents: beeswax INS 901, carnauba wax INS903; caramelised sugar syrup; invert sugar syrup; elderberry extract; carob Bean Gum.
Manufactured by: ASTRA SWEETS NV, BLEUKENLAAN 18, 2300 TURNHOUT, BELGIUM.
Imported and Repacked by: SAMKAN PRODUCTS PRIVATE LIMITED. 1214,12TH FLOOR, MODI TOWER 98, NEHRU PLACE, NEW DELHI 110019 INDIA.
Allergy Info: For allergens, please check the ingredient list.
Best Before: Refer to the White Label sticker on the package for expiry details.
Country of Origin: BELGIUM
Nutritional Information (per 100gm)
Energy (kcal) 345, Protein (g) 5.8, Carbohydrates (g) 79, Total Sugar (g) 53, Added sugar (g) 49, 18% Total Fat (g) 0.5, Saturated Fat (g) 0, Trans Fat (g) 0, Sodium (mg) 0.02