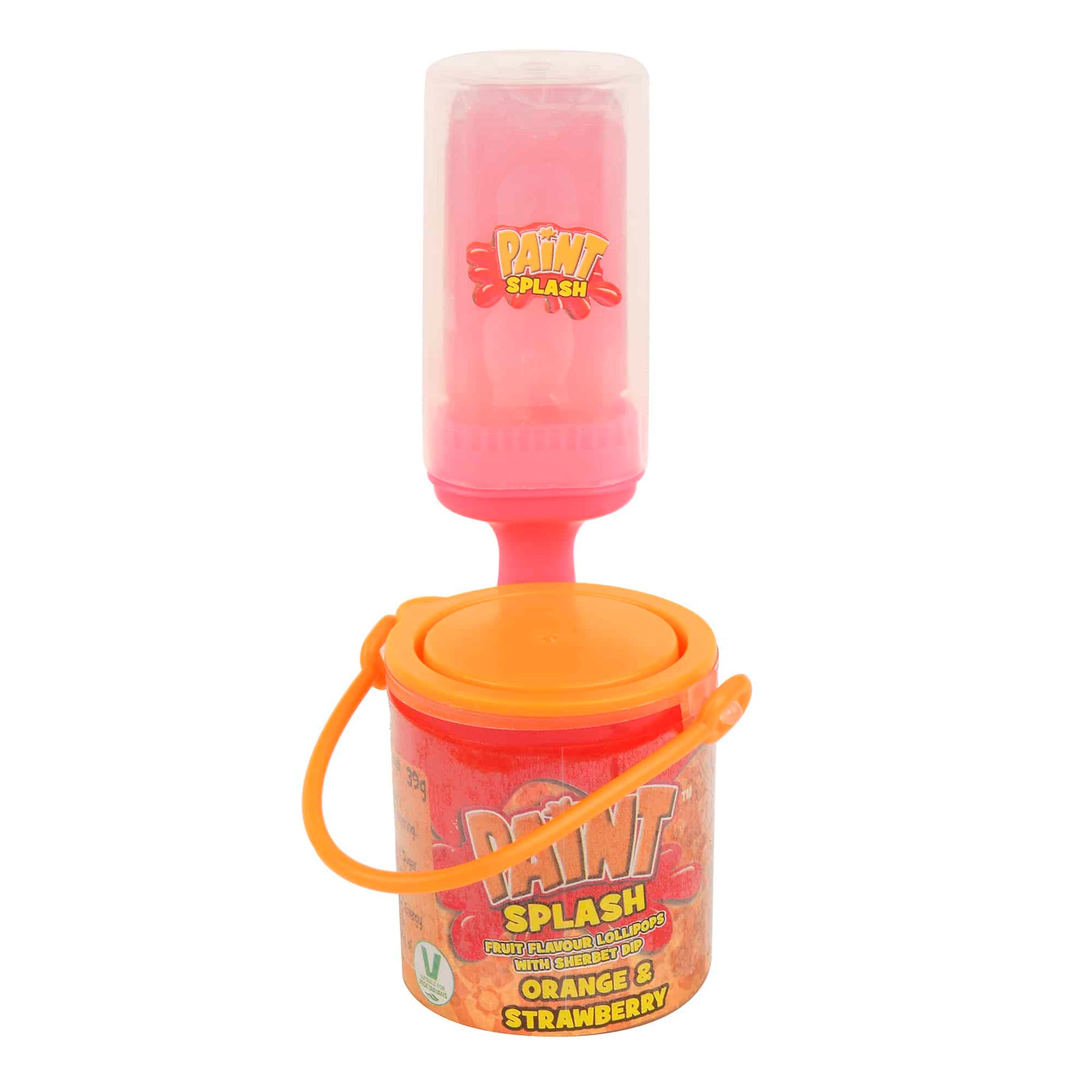 Paint Splash - Orange & Strawberry
Your order will be delivered within a maximum of 3 to 4 Business days.
SKU: CC110 ; Category: Crazy Candies ; Tag: Veg
Paint Splash is one of our coolest variations of the lollipop. Get some of these to your kids and let their tongues relish a splash of crazy flavours.
These candies are available in fruity flavours of zesty oranges and sweet-tangy strawberries.
The Paint Splash is a candy you can share with friends, or sit, indulge, and take in the combination of tart flavours.
It is shaped as a paint tub and brush.
Size: 4.75inch X 1.5inch
Ingredients: Candy Lollipop: Sugar, Maltose Syrup, Acid: Lactic Acid, Flavouring, Colours: Orange & Strawberry: E163 Sherbet Dip: Dextrose, Sugar, Acid: Citric Acid, Glucose Syrup, Flavouring, Colours: Blue Raspberry & Green Apple: E163 Cherry & Cola: E163 Orange & Strawberry: E160c
Manufactured By: ZED CANDY (DONGGUAN) COMPANY LIMITED, NO.3, QI YE ROAD, DUANZHOU DISTRICT, ZHAO QING CITY, GUANGDONG PROVINCE, P.R CHINA
Imported and Repacked By: SAMKAN PRODUCTS PRIVATE LIMITED. 1214,12TH FLOOR, MODI TOWER 98, NEHRU PLACE, NEW DELHI 110019 INDIA.
Allergy information: For allergens, please check the ingredient list.
Best Before: Refer to the White Label sticker on the package for expiry details.
Country of Origin: China
Nutritional Information (per 100gm)
Energy (kcal) 393 , Protein (g) 0 ,  Carbohydrates (g) 98 , Total Sugar (g) 78 , Added sugar (g) 75 , Total Fat (g) 0 , Saturated Fat (g) 0 ,Trans Fat (g) 0 , Sodium (mg) 0.075