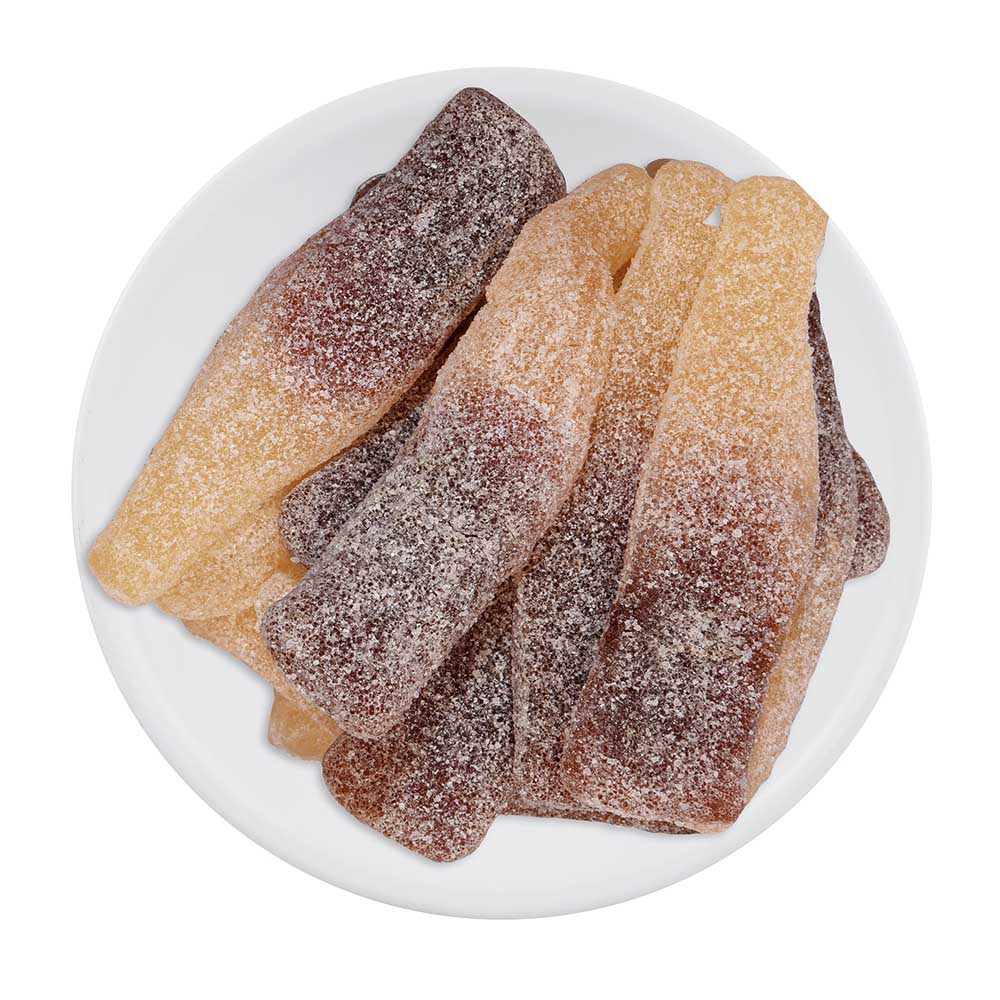 Jumbo Fizzy Cola Bottles
Your order will be delivered within a maximum of 3 to 4 Business days.
SKU: Fizzy141; Category: Fizzy; Tag: Non-Veg
Indulge in the nostalgic flavors of your favorite carbonated beverage with these oversized fizzy cola bottle gummies. Each bite is a burst of fizzy and refreshing cola taste, perfectly capturing the essence of the classic drink.
Crafted with care, these jumbo gummies offer a delightful chewy texture that keeps your taste buds intrigued from the first bite to the last. Whether you're relishing them on your own or sharing the fizzy joy with friends and family, these candies are sure to add a fun and flavorful twist to any gathering.
Each package is brimming with generously sized candies, making them a fantastic choice for snacking, parties, or even as a unique gift for the cola aficionado in your life. Plus, their eye-catching bottle shape and effervescent flavor make them an Instagram-worthy treat, perfect for social media enthusiasts.
So why wait? Elevate your candy experience with these Jumbo Fizzy Cola Bottle Candies. Order now and let the fizzy fun explode on your taste buds!
These gummy candies have a sour, zingy flavor with a soft and chewy texture.
Can be used as birthday treats or can be used as a decorative item on your cake as they do not contain gluten and dairy-based ingredients.
Available in the shape of a huge cola bottle.
Net weight: 100gms
Ingredients:

 

Sugar, glucose syrup, water, pork gelatine, acids: E296, E334; color: E150d; flavouring
Manufactured by: ASTRA SWEETS NV, BLEUKENLAAN 18, 2300 TURNHOUT, BELGIUM
Imported and Repacked by:

 

SAMKAN PRODUCTS PRIVATE LIMITED. 1214,12TH FLOOR, MODI TOWER 98, NEHRU PLACE, NEW DELHI 110019 INDIA.
Allergy Info:

 

For allergens, please check the ingredient list.
Best Before:

 

Refer to the White Label sticker on the package for expiry details.
Country of Origin: BELGIUM
Nutritional Information (per 100gm)
 Energy (kcal) 345, Protein (g) 0.1, Carbohydrates (g) 85, Total Sugar (g) 81, Added sugar (g) 58, Total Fat (g) 0.1, Saturated Fat (g) 0, Trans Fat (g) 0, Sodium (mg) 0.05.