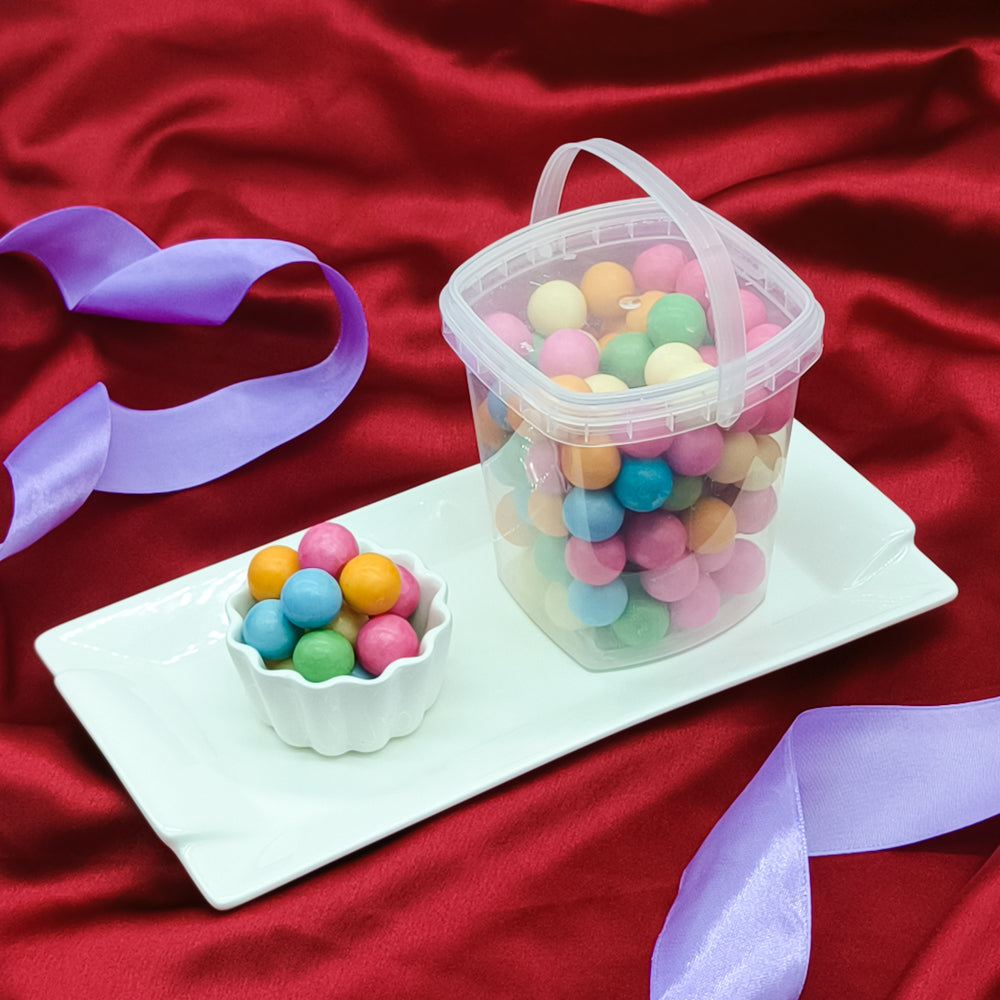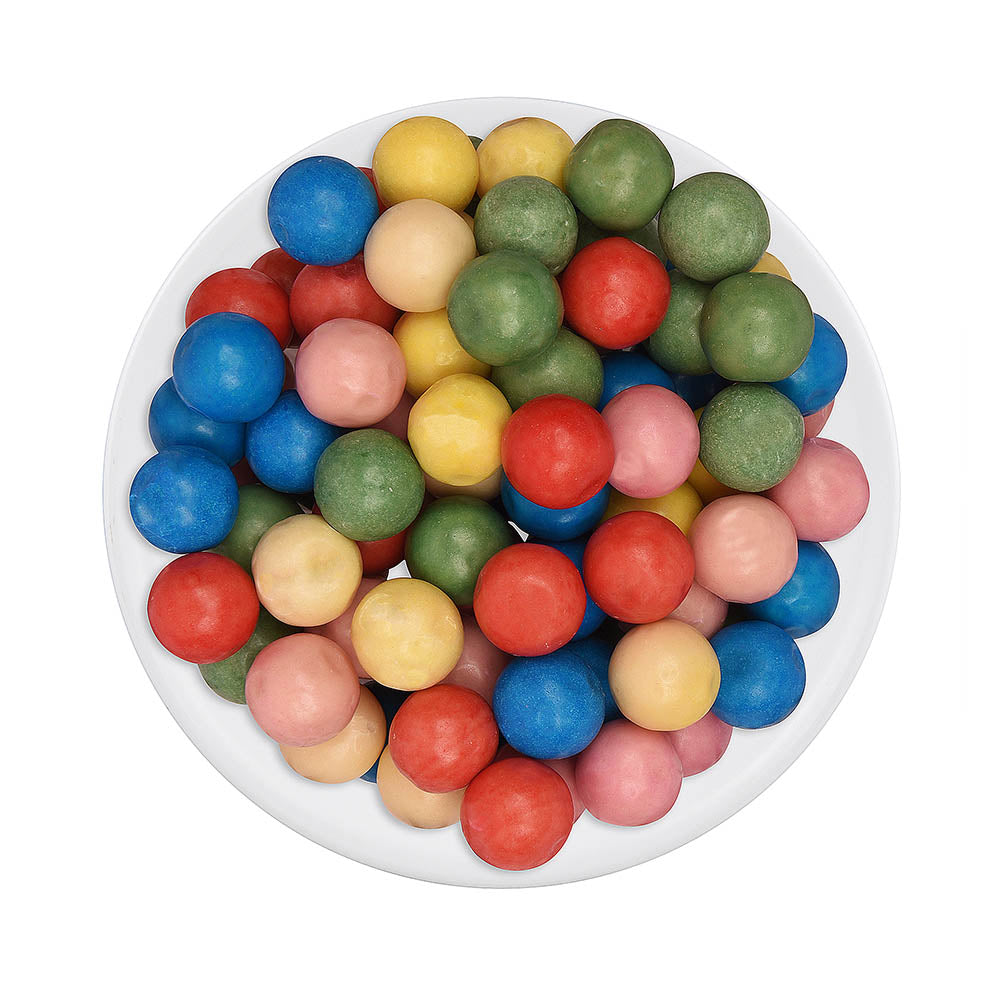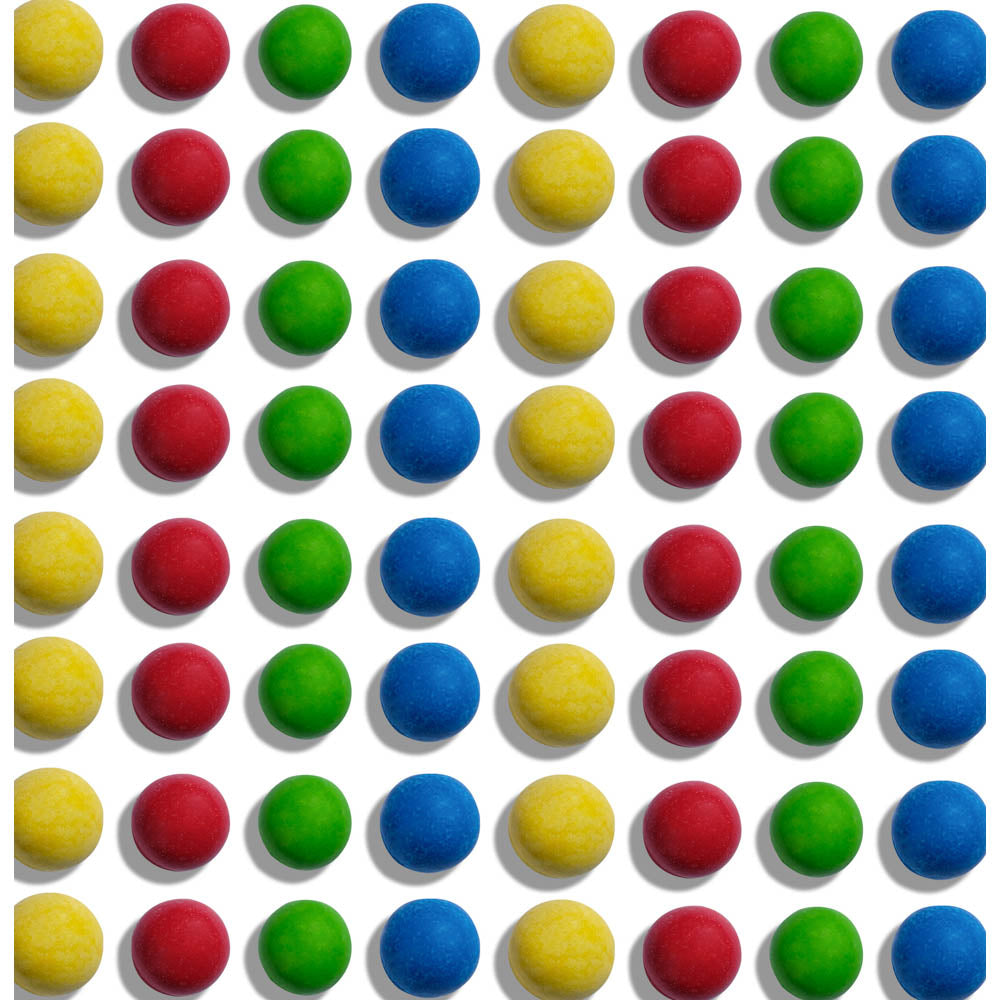 Bubblegum Balls Bucket - 300 gms
Your order will be delivered within a maximum of 3 to 4 Business days.
SKU: BU003; Category: Fizzy; Tag:  Veg
Pop-in fruity balls in your mouth that have a flavour that rolls and creates a hurricane of flavours inside you. These bubblegum balls have a glossy, colourful, and sugary coating outside and have a soft, chewy, and draggy texture inside. Moreover, its flavour does not wane away and keeps the delightful smile on the face of kids alive for a long time. 
It has a blend of sweet & juicy flavours of strawberry, banana, and cherry.
These bubblegum balls can be served in parties, get together, or just for making your little ones happy.
These are smooth and round balls that are available in various colours.
Net Weight: 300 gms
Ingredients: Sugar, glucose syrup, dextrose, flavours, humectant: glycerol (INS422); emulsifier: soya lecithin; acids (citric acid INS330, malic acid INS296), glazing agents: shellac INS 904, beeswax INS 901, carnauba wax INS 903; colours: Curcumin INS100, Brilliant Blue FCF INS133, Contains Permitted Synthetic Colors [INS100, INS133] And Added Flavours (Nature Identical Flavouring Substances)
Manufactured by: Aydınlı, istanbul end. ve tic. bölgesi, Hakkı Matraş Cd. no:15, 34953 Tuzla/İstanbul, Türkiye
Imported and Repacked by: SAMKAN PRODUCTS PRIVATE LIMITED. 1214,12TH FLOOR, MODI TOWER 98, NEHRU PLACE, NEW DELHI 110019 INDIA.
Allergy Info: For allergens, please check the ingredient list.
Best Before: Refer to the White Label sticker on the package for expiry details.
Country of Origin: TURKEY
Nutritional Information (per 100gm)
Energy (kcal) 352, Protein (g) 7.3, Carbohydrates (g) 80.6, Total Sugar (g) 71, Added sugar (g) 69, Total Fat (g) 0.1 0.0, Saturated Fat (g) 0, Trans Fat (g) 0, Sodium (mg) 0.04.